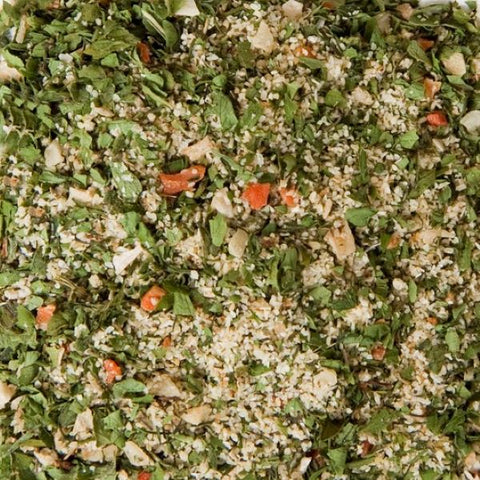 CANADIAN ORGANIC Spice & Herb Co. Inc.
Dill-icious Dip Mix "salt free"
Enjoy a light refreshing taste! 

ORGANIC
SALT FREE
Country of Origin:  Made in Canada from imported ingredients.
Directions:
Mix one package of Splendor Garden Dill-icious dip mix into 1 cup mayonnaise and 1 cup sour cream  (a base of 2 cups plain yogurt can be substituted)
Refrigerate for 4 hours and serve with veggies or taco chips.
Dill-icious dip mix makes a great topping on baked potatoes and perogies or a dip for wedges and hot wings.
Ingredients:
Organic Dehydrated Vegetables (Onion, Garlic, Carrot, Red Bell Pepper & Tomato), Organic Spices, Organic Mustard, Organic Orange Peel, Organic Lemon Peel, Citric Acid
Contains: Mustard
Nutritional Information
According to CFIA, Nutritional Fact Tables shown on packaging may be exempt on some products, such as spices and herbs, if the values are shown as 0% for the recommend serving size.